The Gu zheng (古箏) is a traditional Chinese zither with approximately 2,500 years of history. The character Gu (古) literally means "ancient" while Zheng (箏) means "zither." Indeed it is one of China's oldest instruments. The earliest form of the instrument emerged during the Warring States Period (475-221 B.C.E) and it gained popularity during the Qin Dynasty (221-206 B.C.E). During the Tang Dynasty (618-907 C.E.), the gu zheng was highly appreciated and became one of the most popular instruments.
Zither Family
The Gu zheng descended from the Se ( 瑟), an ancient zither played more than 3,000 years ago. The Se is made of a large, rectangular soundbox, contains 25 silk strings, and moveable bridges. It is one of China's most important ancient instruments, along with the Gu zheng (古箏) and the Gu qin ( 古琴).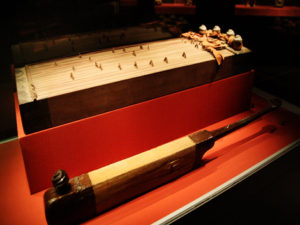 The Gu zheng is the parent instrument in the Asian long zither family. It is the ancestor to the Japanese Koto, Korean Gayageum, Mongolida Yatga, and the Vietnamese Dan trah.