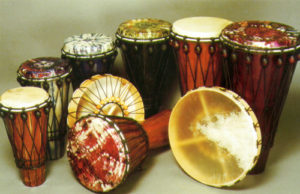 In this master class, you will learn traditional rhythms from around the world.  We will examine rhythmic patterns from Africa, the Middle East, Asia, and South America (but of course are not limited to just these regions).  As well as refining your skills and understanding of fundamental rhythms, we will also explore the concepts of odd time signatures, complex beat cycles, and poly-rhythms.  This class is designed for INTERMEDIATE and ADVANCED STUDENTS, as well as musicians of other instruments who wish to deepen their understanding of traditional world rhythms.
How do the online lessons work?
Simple.  Online lessons are conducted through Skype (or similar video chat program).  Song sheets are sent to your email prior to the lesson.    Check FAQ for more info
How do I get started?
All you have to do:
1.  Schedule a time. (Send a message on the CONTACT PAGE or to andrewsalamanca@gmail.com)
2.  Send your payment via Paypal prior to the date of the lesson.
3.  Have fun!!!
**All 3 steps are required***
PRICES
Single Class: $50 US/hr.         4 Class Package: $190 US
Additional Information
Lessons are 1 hour long, but may be shortened to 45 minutes for young children.  Lessons are conducted through Skype (or a similar video chat program) and all music sheets will be sent via email prior to the lesson date.  Payments are to be made prior to the lesson date and can be sent via Paypal or direct deposit.  Lessons can be conducted in ENGLISH, CHINESE (中文), or SPANISH.
***Please note that the prices listed are for North America and Europe (if you are outside this region, please contact me for the appropriate pricing for your region)
CANCELATION POLICY: Lessons rescheduled or cancelled 48 hours prior to the lesson date will not be charged.  If a lesson is cancelled with less than 48 hours notice, the lesson will be charged.  A rescheduled lesson must occur in the same week as the original lesson date.