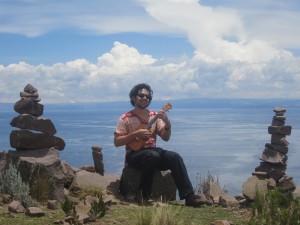 Andrew Salamanca
Composer, Teacher, Explorer
     Andrew Salamanca is a composer who travels the world to discover all types of music, dance, art, culture, and much more. This musical journey has lead him to more than 10 countries in 5 years and a nomadic lifestyle of experiencing the wonders of the world. Andrew has over 15 years of musical experience with a great variety of musical genres, as well as 9 years of teaching experience.  He has learned to play over 10 instruments, many of these being self-taught and from different musical traditions.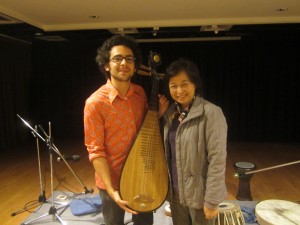 In 2010, the journey began in Taiwan, where he pursued studies in Mandarin and Chinese Classical music.  There he spent 2 years studying Pipa and Guzheng, two traditional Chinese instruments both with more than 2,000 years of history.  Since then, he has taught lessons in English and Mandarin, performed in multiple countries with a diverse mix of international musicians, and recorded original compositions in a variety of world music genres.
     In 2013, Andrew moved back to New York to pursue musical projects. He served as the Music Director of the Genesis Society, a non-profit organization, where he hosted educational workshops and cultural events in Queens, NY. During this period, Andrew composed and performed original music for spirtual events, meditation workshops, yoga classes, dance therapy sessions, kirtan ceremonies, and belly dance performances. He also volunteered with Musicians On Call, where he provided bed-side musical performances for hospital patients. In addition, Andrew developed a series of world music workshops for children and adults.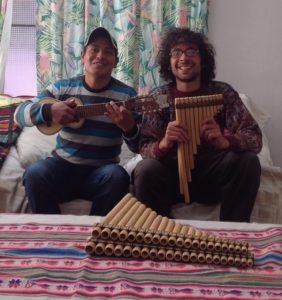 In 2015, Andrew set off for South America to explore folk music and dance traditions of Peru and Bolivia. He began his adventures in Peru, where he travelled a route following the yearly calendar of major folk festivals. This lead him to experience hundreds of folk songs and dances throughout various regions around the country.
      During his travels, Andrew primarily focused on learning traditional Andean music. He began studying the charango and zampoña with local luthier Roberto Vargas Gutierrez in Cusco, Peru. Andrew also spent significant time learning the Icaros, sacred healing songs of the Amazonian shamans.
       Andrew Salamanca's compositions are truly eclectic, often combining instruments from very different traditions into completely unique sounds.  He has the freedom to expand to any style.  His background includes significant experience with the following instruments and musical genres.
Andrew invites you to join the adventure and experience the world of music with him!