With its unique sound and sweet character, the ukulele has the ability to charm like no other instrument. A simple mention of the ukulele is so synonymous with beautiful vistas of tropical paradises and hula dancers gently swaying with the breeze, that it may be surprising to some that its story can be traced back to Portugal.
     In 1879, Portuguese immigrants sailed to the Hawaiian islands bringing with them a small instrument of the guitar family called the machete. The machete was a popular folk instrument originating from the Madeira islands. Over a span of a few years, the instrument was adopted and modified by the Hawaiians to become the ukulele (pronounced oo-koo-lay-lay).
      There are a few stories about how the ukulele got its name. The most common story states in 1879, after the long sea voyage, a Portuguese man named Joao Fernandez jumped off one of the ships and celebrated by delighting listeners at the port with folk tunes from his small 4-stringed machete. The islanders who saw him play said the way his fingers jumped around the fingerboard reminded them of jumping fleas. The name "ukulele" roughly translates as "jumping flea," although it is not the only possible translation. Another version comes from Queen Lili'uokalani, who elegantly explains the meaning of "ukulele" as "gift from afar."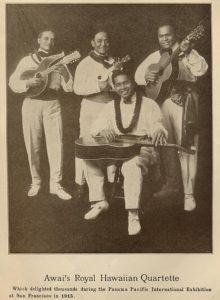 In the 1880's, King Kalakaua became the first of the Royal Family of Hawaii to embrace the instrument and to promote it as a Hawaiian instrument. The instrument, often carried by farmers, was nicknamed the "taro-patch fiddle" and its popularity grew among the islands. In 1915, Hawaiian musicians who performed at the Panama Pacific International Exposition in San Francisco introduced the ukulele to the mainland United States and the first ukulele craze swept the nation.
     In the 1920's, Hawaiian-themed songs became the trend and the ukulele found its place in the jazz age. "Ukulele Ike" is a noteable ukulele strummer who became quite popular in this era.
     A second wave of popularity in the United States followed in the 1960's with much exposure coming from The Arthur Godfrey Show and novelty acts like Tiny Tim. In the 1990's, a recent surge in popularity for the instrument came after Israel Kamakawiwo'ole's version of "Somewhere Over the Rainbow/What a Wonderful World."
    Over the years, a variety of different ukulele types evolved, including the classic pineapple ukulele……
Check out The Types of Ukulele for more info.