The true origins of the European guitar remain unclear. The evolution of the instrument can only be traced back as far as the Renaissance Period (14th-17th centuries). There is still much disagreement among scholars over the relation of the guitar to earlier string instruments which could be its ancestral forms.
     One common theory that remains unconfirmed is the "kithara" theory. This theory suggests that the guitar is related to the Greek "kithara," a type of lyre or lap-harp dating back to the ancient Greek era. This explanation seems improbable as the evidence for the relation is mainly linguistic, claiming that the Greek "kithara" became Spanish "quitarra."
Early Forms of the Guitar
     The earliest form of the guitar can be dated back to the 15th century when it had only four courses, or doubled strings. Occasionally a single top string was included. Musical transcripts from this era suggest that the tuning was not standardized and there were a few variations, but a common tuning that was used included the intervals of a fourth, third, and fourth (ex: G , C, E, A). The body of the early guitar was much smaller and narrower than the modern version. This version of guitar was played extensively in Spain, Italy, France, and England during this period. Tablature was the primary notation used for guitar and remained that way until the mid 18th century when there was a transition to the musical staff.
Baroque Guitar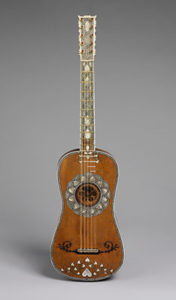 In the 1600's, the guitar generally maintained its size and shape, but added a 5th course of strings. There were also a variety of tunings, although a typical tuning (A, D, G, B, E) emerged that can be recognized on the modern guitar. In the Baroque Period (1600-1750), the popularity of the 5-course guitar outshined the 4-course guitar and the vihuela, a common stringed instrument that shared equal popularity with the 4-course guitar in the previous period.  In the 18th century, a 6th course was added and eventually there was a change from double strings to single strings.
The repetoire of guitar music continued to expand and a new form of notation called "Alfabeto" emerged. Alfabeto notation replaced the numbers of tablature with chord diagrams that were categorized by letters. These letters didn't necessarily correspond to musical notes, but were faster to read than tablature.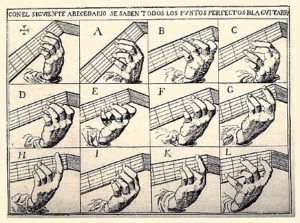 Modern Classical Guitar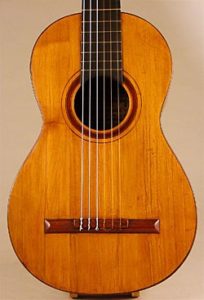 In 1850, luthier Antonio Torres experimented with the form of the guitar and created a new design. He altered the proportions to make a larger body and developed a "fan" top bracing system. He also strung his guitar with 3 gut strings and 3 silk strings. The Torres-style guitar greatly improved the sound quality as well as increased the volume, which was the main problem with earlier versions of guitar as they competed with louder instruments. This guitar design became the standard version that we are all familiar with today.