The darbuka is the quintessential Middle Eastern hand drum. It is a popular percussion instrument that is played throughout Northern Africa, the Middle East, the Mediterranean, and the Balkans. Its name varies based on region, it is also commonly known as Dumbek or Tablah.
Although the early history of the darbuka is unclear, it is believed to be of ancient origin. Artistic representations only document the existence of the darbuka as early as the 19th century though. Since the 20th century, it has been the dominant percussion instrument in Middle Eastern music. In earlier times, large-hooped frame drums, such as the Riq, Tar, and Daf, were the main percussion instruments.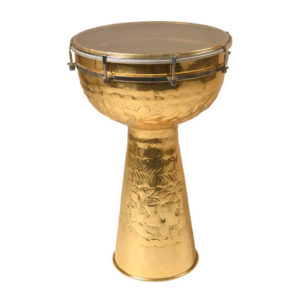 The darbuka is a goblet-shaped drum often made from clay, wood, aluminum, or copper. The head of the drum is traditionally made from goat's skin, although synthetic drum heads are now more common. There are 2 main types of darbuka, the Turkish Darbuka and the Egyptian Darbuka. The Turkish Darbuka is typically made of a lightweight metal and has a sharp edge on the head of the drum. The Egyptian Darbuka is typically made of a heavier clay and features thick, rounded edges around the drum head. Intricate geometric tilework on the body of the drum is characteristic of the Egyptian style.
Playing Techniques
The darbuka is played with the hands, often requiring highly complex finger techniques. When learning the darbuka, it is first important to learn each bol, or stroke. Each bol is a phonetic sound that refers to a specific stroke on the drum. Some basic bols include Doum, tek, and ka.
Doum is the deep bass sound. It is played by the right hand, holding the fingers together, striking the center of the drum and allowing it to bounce off.
Tek is the high rim sound played by the right hand. It is played by using the middle and ring finger to strike the edge of the drum.
Ka is the high rim sound played by the left hand.
Pa is a slap sound. It is played with loose fingers and the hand is kept on the head of the drum.
Traditional Rhythms
Using the system of bols, one can express a rhythm in a spoken form. It is quite common for a musician to recite the rhythm first, then play the rhythm.